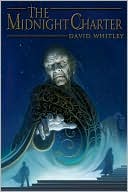 AUTHOR: David Whitley
SERIES: Agora Trilogy, book 1
PAGES: 384
ISBN:9780141323718
PUBLISHER:Roaring Brook Press
PUBLICATION DATE: August 6, 2009
SOURCE: my library
GENRE: fantasy/ dystopia
OVERALL RATING: Recommended
RECOMMENDED FOR: MS
GIVE IT TO: MS fantasy readers
SUMMARY:
A deadly plague is sweeping the city of Agora. Mark and Lily, two young teens who meet by chance and become friends, do the best they can to survive. Mark becomes an apprentice to an astrologer, Lily to a doctor. In a city ruled by a powerful and corrupt elite, emotions are bought and sold and debt means certain death. While Mark and Lily believe they are relatively safe, the two friends slowly learn that their destinies are intertwined and that they may be a part of the secret Midnight Charter, a mysterious prophecy devised by Agora's founders.
WHAT I LIKED:
Interesting world-building! I love the concept of selling one's emotions for others to consume as drugs. Having read
The Children of the Lost
first, I loved reading about how Mark and Lily met and became friends. They grow up so much over the course of the two books, and their relationship with each other grows and changes as well. Neither character is perfect, but both do the best they can to survive and do the right thing by the people they love.
WHAT I DIDN'T LIKE:
I liked
The Midnight Charter
; I LOVED
The Children of the Lost
.
The Children of the Lost
is a much stronger story. A couple of my students who have read
The Midnight Charter
on my recommendation told me that they had a hard time getting into the story. For one student who couldn't get past about 40 pages, I suggested reading
The Children of the Lost
first then going back and fill in the gaps with
The Midnight Charter
. I have to agree that this one is a bit slower-moving than the second one, but I am waiting on pins and needles for the third installment!
CONTENT
LANGUAGE: none
SEXUALITY: none
VIOLENCE: a girl is murdered
DRUGS/ ALCOHOL:
STATUS IN MY LIBRARY:
We have it; it is checked out some. I plan to add it to our school's 2011-2012 Lone Star Plus reading list.